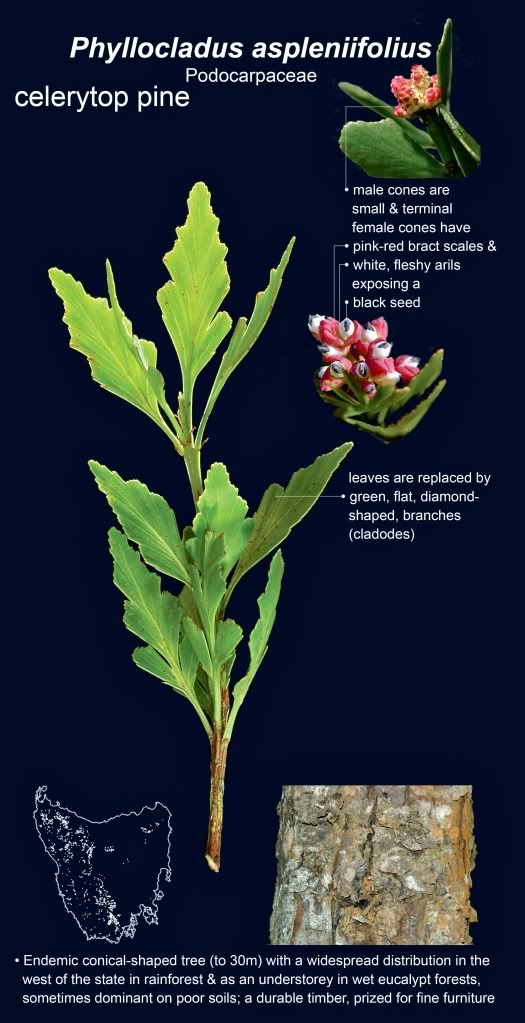 TreeFlip image courtesy of Rob Wiltshire.

I wanted to share a little botany with you this morning, I've been talking about the timber we're using to build the hut, and it wasn't til the other week when my workmate asked me "what is myrtle", that I realise not everyone has (mis)spent their youth traipsing around the bush looking at the native plants!

Luckily for me I know the author of TreeFlip quite well, and he was happy for me to share the relevant pages. I do laugh at his descriptions, I think his personal bias towards certain timbers for furniture or his favourite plant for honey are thinly veiled!

Celery top pine was named for the celery-like appearance of its "leaves". These are actually not leaves but flattened branches called cladodes, that have taken over the photosynthetic role for this tree. The trees can get up to 30m tall and look like this:


Image courtesy of
http://www.tastimber.tas.gov.au/SpeciesDetailsGeneral.aspx?SpeciesID=9
Celery top is a natural, durable and tough, fine grained timber. The wood is creamy white when freshly cut and darkens to a mellow rosy gold hue over time and with exposure to sunlight. Slowly grown, it has a hardness, strength, and density not normally associated with conifers.
Image as above

The timber for the outside of the hut is vertical, dressed, celery top boards. It looks quite blond at the moment (similar to my old hair colour) but once coated it will darken to a golden honey colour. Rob is heading down today to start coating the boards, at the moment they're in our bedroom and the hall way to keep them from the rain.
Anyway that's enough botany for this morning!