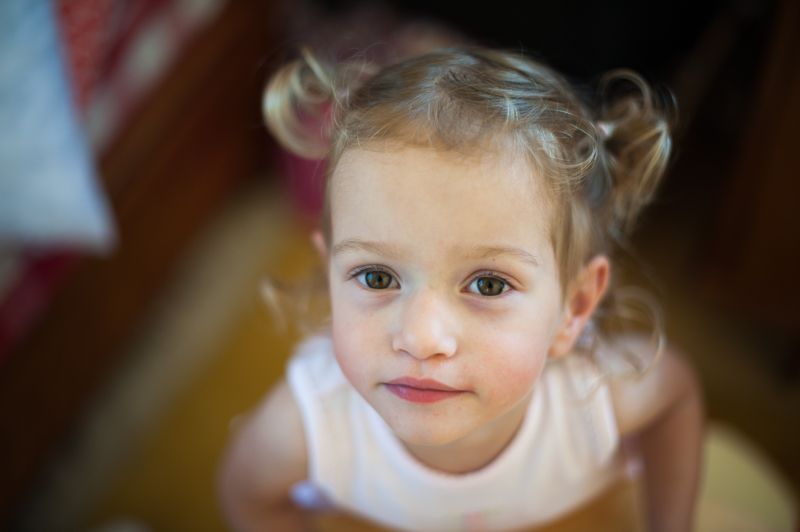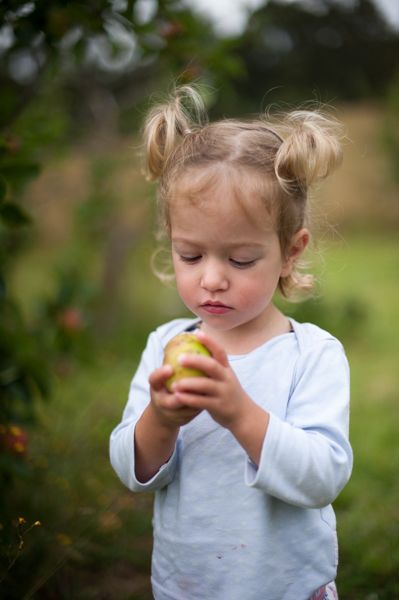 Maggie: Hat is still her favourite word, she points them out on people, in books, on their favourite tv show Shaun the Sheep. She doesn't actually pronounce the "h" so she sounds a little french. Very cute. Which is a good thing, as these two are testing us at the moment. Don't let their apparent sweetness fool you, both girls are full of spunk. An attitude and determination that leaves us floored when it ends in tears or a squabble. Whilst I hope it will settle down, I admit that there are moments like yesterday where I desperately need a break. Then they look at you like Maggie here, and you are lost in those beautiful eyes. Photo taken on a Nikon D700 with a 50mm 1.4 lens, 1/800, f 1.4, ISO 200.
Elisabeth: I'm not sure if they remember, but last autumn Rob was caring for them 50% at home, and every day he would pick them an apple each from the orchard, peel them, and let them munch on them in their pram as they took a perimeter walk with the dogs. This morning we wandered around the trees, checking out the potential harvest of apples, peaches, cherries and apricots, if the black birds and possum don't get them first. It might be time to invest in a floppy fence around the top of the orchard/garden fence, as a sneaky possum is wreaking havoc, snapping branches, half eating fruit and generally being a nuisance. Elisabeth happily selected a fresh apple to munch on, she enthusiastically spat out the skin and looked to enjoy the crispy flesh. Photo taken on a Nikon D700 with a 50mm 1.4 lens, 1/8000, f 1.4, ISO 200.
Joining in with Jodi's 52 portrait project at her blog
Practising Simplicity.