Although we are all on holiday together, I haven't found the time to blog.
The weather has been warm, so we have spent time outside doing things together. Park visits, dog beach walks, a trip to a nearby national park, Mt Field, and yesterday a swim at the beach.
I feel languid, happy to sit in the sun watching the girls (and intervening when squabbles inevitably occur) with a gin and tonic in hand.
This is not to say that we've had an easy time over the silly season, hosting my family Christmas lunch at the hut (11 people to feed), and heading up north to visit Rob's family too. While mostly the girls are well behaved, recently I suspect with tiredness and excitement and a break in their usual routine, tantrums, tears, and squabbles have seemed to dominate our days. We have been trying to ensure quiet nap times in the early afternoon. When awake, playing outside usually helps too.
2014 whizzed by in a flurry of firsts for the girls and us. A return to work for me, Rob caring for the girls 50% at home until July, then the girls heading to family day care twice a week. All the things that I worried endlessly about this year ended up not being such a big deal. Returning to work has been tiring and busy, but I feel I stepped back in and maybe even up a level. Accomplishing tasks on time was even more satisfying!
Weaning the girls in early June, was something I deliberated over for weeks, hoping they would make the decision for me. Within days they were fine, not even pulling at my top for a feed. Again sending the girls to care was keeping me awake at night, especially when within a month of needing a place none were imminent. We by luck got a place with a family day carer, and we are so happy we did. Within a few weeks the girls had settled into the new situation, and are now eager to get there and have fun. Which lifted a great weight off my mind. Finally whilst we have had our share of sniffles and viruses, nothing too serious, or even requiring anything more than panadol. For that we are truly grateful, as I still worry that the girls might not be as strong as regular children.
Whilst we have been in good health, 2014 was a sad year for our family with Rob's father passing away early this year. Whilst we obviously miss him, in looking back at all he accomplished over his life, he has also provided much inspiration. His passion, energy, persistence and vision are all attributes I would like to emulate.
We are looking forward to the new challenges 2015 will bring us, but also hope for quiet moments of time for our little family. We want very little to make us happy, time to garden, to pick flowers, to keep a clean and tidy home, take photos, good food, great bread, and a glass of home brewed cider or beer to enjoy in the evening. The girls still provide us with daily laughs and smiles, as their vocabulary grows and their relationship develops.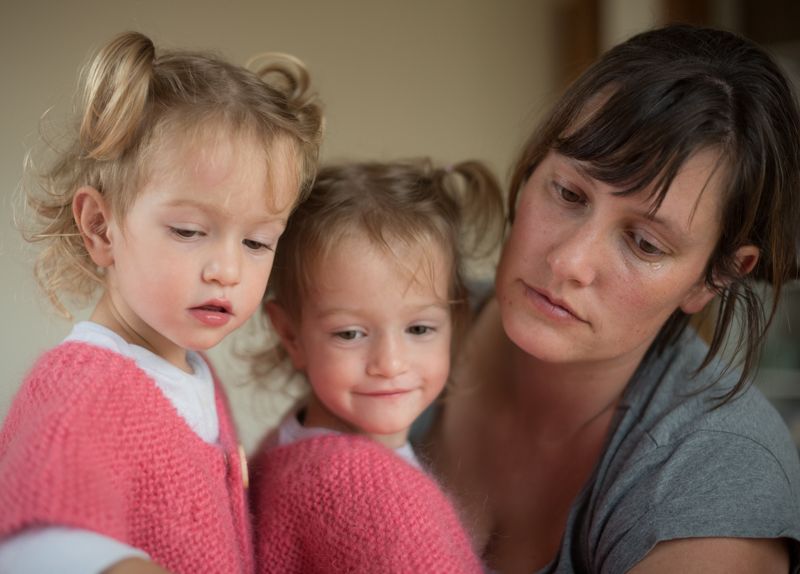 Rob took this photo on the eve of the new year, and whilst initially I didn't like the photo of myself, I have come around to liking it very much, as there have been fewer photos this past year with me in them. Partly this is because I have been taking most of the photos, but also since weaning the girls I have put on a bit of weight, and I can't ignore it in photos of myself! Whilst this is a common new year's resolution, I do hope to rectify this with some more sensible eating and exercise this year.