Sorry the blog was a little quiet last week. No real reason just time I guess.
We had a good weekend, on Friday Rob and I headed to the State Cinema to see Skyfall. I loved it. Although as the movie was over 2 hours long I did have to dash out mid way to visit the ladies, and I was fairly desperate to leave at the end too.
Because we'd picked the early showing (6.30pm) dinner didn't really work out very well, as it was too early before hand and then too late (for Hobart) afterwards. We did stop at Mykonos for some hot chips! Felt like an undergraduate student again.
The gale force winds on Saturday meant that we stayed inside, and so Rob got our decorations out of the loft and the hut was decorated in a few hours. We still love our homemade twig
tree
, and I've already spent the last two evenings gazing at the lights.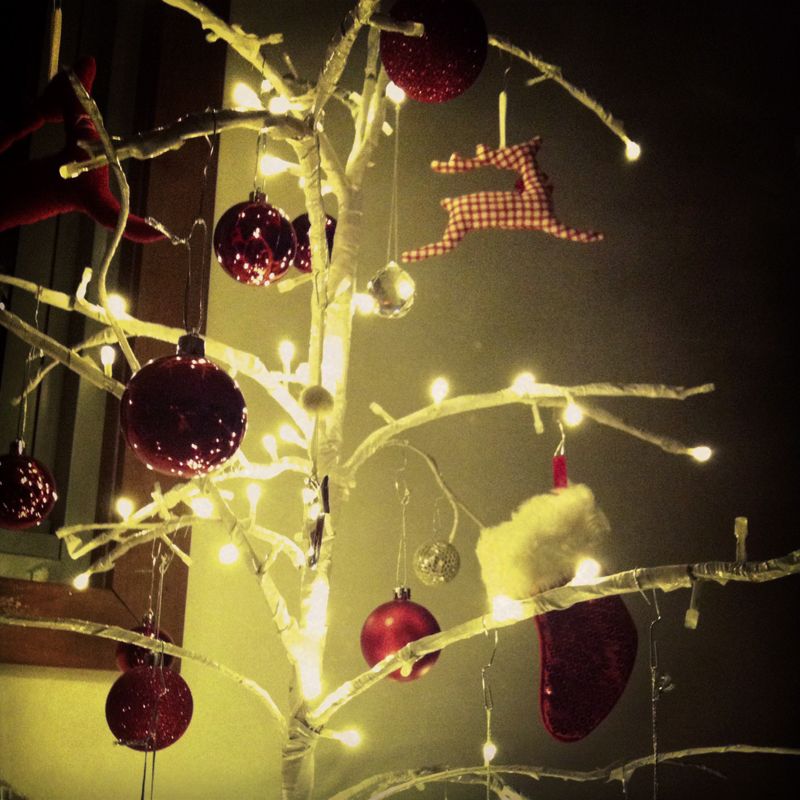 We've still been enjoying our veggies from the garden (although the wind totally trashed the peas and broad beans so they've been pulled out now and I spent several hours yesterday shelling beans and freezing them).
So our menu:
Monday: Real Shepherds pie with left over roast lamb shoulder, veggies with a topping of smashed pink eyes.
Tuesday: More Shepherds pie.
Wednesday: Salad with vegetables from the garden and bacon.
Thursday: Salad with peas, broad beans, bacon, avocado and parmesan.
Friday: ahem, hot chips!
Saturday: Some peas and beans from the garden.
Sunday: Rob made the best steak sandwich, with grilled bread, fried eggs, onions, tomatoes and of course steak.
All those veggies must be doing the twins some good, we visited our Dr on Friday, and when he measured them on the scan they were both measuring a week ahead! They now weigh an estimated 700g each.