When I was little I for some reason had a day dream about getting married at home. I'm not sure why? But I thought that it would be nicer for some reason.
Fast forward 20 years or so.
We had a short working week last week, as we had to prepare for Rob's birthday party. On Wednesday evening we went to meet the lovely
Emily Snadden
for a drink. I nervously looked around for anyone we knew in the bar, but luckily I saw nobody. Perfect. We purchased a bottle of bubbly and toasted each other and Emily pulled out two little boxes from a white paper bag. Inside each was a silver ring with tiny bunnies and foxes chasing each other around endlessly. We were lucky to have them, as our design had proved more difficult to execute than planned, only days earlier we thought we might have to lose the animals, but Emily persevered (she may never want to see a bunny or fox ever again) and created exactly the rings we hoped for. It was a lovely relaxing start to a slightly crazy couple of days.
The pace changed quite rapidly from there, I rushed out to the airport to pick up my friend who was one of five people who knew what was about to happen. Thursday dawned a grey and uninspiring day, after the torrential rain earlier in the week, the constant drizzle wasn't letting up. I imagined the block to be a quagmire of mud. We got baking, two Maggie Beer orange pound cakes with a layer of dried cumquats that had been soaked in dessert wine, and a gluten free almond pear cake. We headed into Hobart to start the food shopping (but first we ate a quick burger from Devil's Kitchen overlooking the Derwent), first stop was Vermey's. Marcus had been ageing two beef rib roasts for a couple of months for us, and we also picked up two fresh ducks and some mince for stuffing them. Next stop was some fresh vegetables. Then home, Rob was feeling nervous about the moat that had developed behind the hut, so headed down to the block to dig some trenches with the dogs. My friend and I decided to stay inside, and began icing the little hut gingerbread biscuits that I had made earlier. She painstakingly iced each one to make it look like vertical cladding, and added a fondant roof, which she later painted silver. I meanwhile started stockpiling platters. Rob came back after dark, with two very muddy dogs, and an even muddier car (Claudia had decided to shake off inside). But he pushed on and removed the bones from the two ducks, then stuffed them with pork and veal mince, onions, sage, pistachios, dried cumquats, apricots and chicken thighs.
Friday was still grey but at least the rain had stopped. Rob headed off to work to give a lecture. I cooked the ducks. My parents let me know that my grandmother had another dizzy spell (she'd had one a couple of weeks ago that caused her to faint, hitting her head and giving her concussion), so I was more than a little concerned. Especially as I knew that they were booked on a flight to head over the next day. They were another two of the special five that knew something was up. But I pushed on, baking olives and tidying up. Rob returned to start cooking the roast beef. I got the call from the courier bringing the three pork bellies from
Mt Gnomon
. I was looking forward to them I can tell you. Three extremely large pink bellies with lovely layers of fat. We pushed on and made the buttercream icing for our cakes, not entirely successfully I admit, the sugar syrup turned into toffee in both batches instead of being incorporated into the egg yolks, but we improvised and finished both cakes. My aunt called to let us know that their doctor thought my grandmother fit enough to travel. Which was a big relief. We headed to the block to tidy up after the builders. After some sweeping and rearrangement (and a thorough disinfecting of the builders porta loo) we left in the twilight to head home to continue cooking.
Jo and Michelle
had suggested that we pre-cook the pork bellies and reheat them in the barbeque. We cooked them in our favourite way, ala Movida, blasted for 40 minutes on a high heat, before removing the meat and adding carrots and leeks, bay leaves, white wine and sherry vinegar, returning the meat and covering them with foil to cook slowly until tender.
I woke up early on Saturday and looked outside to see a clear blue sky. It was going to be a 'cracker' day, as Rob and I like to say. Buoyed by this we enthusiastically headed off early to pick up 10 loaves of bread from Jackman and McRoss, a 2 kg French cheese from Wursthaus, several bunches of red tulips and a few of chrysanthemums from Salamanca, and 10 dozen oyster from Mures. Then we seemed to unrail slightly timing wise. It seemed to take an age to slice the ocean trout gravlax (that had been curing since Tuesday), duck and beef. Whilst Rob did that I packed all the crockery, cutlery, glasswear, serving platters, wine and food into the cars. Off to the hut, I realised we were running a little late! There was only 40 minutes til when people turned up. Rob and I threw ice into galvanised buckets and added Jansz NV sparkling, home brew in Grolsch magnum bottles, and mineral water. We got inundated by what seemed like hundreds of wasps. It was hot and I manically threw table clothes onto trestle tables, put tulips in vases and set out the platters of meat. Luckily some of our guests arrived early so we were able to delegate some of the set up. I snuck away eventually to get changed into my dress. A blue silk dupion halter neck (that I'd had especially made) this was trickier than it sounds as our master bedroom has no door, and guests were already taking themselves on tours of the hut! Much to my sisters disgust, I wore a pair of silver Birkenstock thongs! (she knew too, as she had returned to the UK).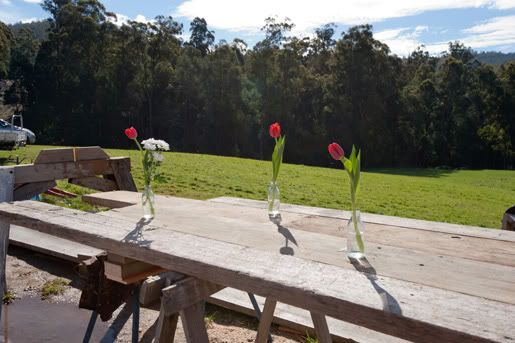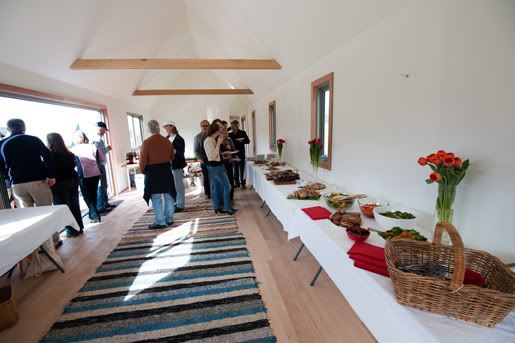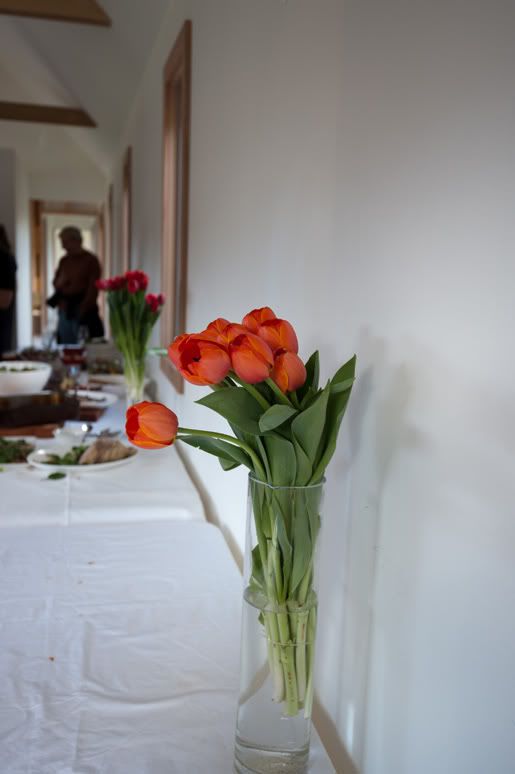 Our guests all arrived and started nibbling on the oysters and gravlax, whilst the pork warmed in the bbq. Time disappeared again and it was suddenly 1.45pm, this may not normally have mattered but I knew something had to take place at 2.30. I rustled Rob along, and soon our guests were sitting at tables, or the pop up bar (the builders work station), or inside the hut. I tried to nibble on some food, but found that I was a little nervous. I insisted Rob change from his shorts, t-shirt and explorers into some trousers and a linen shirt, which he did do, the celebrant arrived, I found Rob nibbling on a beef rib bone! We prepared to do the "announcement". Lynn had a few funny moments where she had to pretend to know us from work (one of my aunts decided to be friendly to the poor lady on her own!). We gave her the signal and she tapped a glass to get their attention. At that precise moment Rob's mother headed straight for the porta loo! Oh no! I thought they'd guess what was about to happen. But once everyone was gathered (which seemed a long time but probably wasn't) Lynn announced that although they were here to celebrate Rob's birthday, there was also going to be a little ceremony, that we were getting married. The collective gasp was priceless (and I think I'll remember it always). But Rob's parents immediately started to cry! I'm a terrible sympathetic crier so started too! But they were happy tears, I should say there were a lot of smiles too!
The ceremony was quick, Rob and I standing at the end of the living room, with a very church like ceiling above us, with wet muddy dogs wandering amongst us as we said our vows! Rob's daughter (who was also in on the secret) was the ring bearer. It was quite surreal, in no time at all we had our rings on and were announced as Dr and Dr Wiltshire! It was a great way to have a wedding. Corks popped whilst we signed the certificate and there were many hugs, tears and laughs.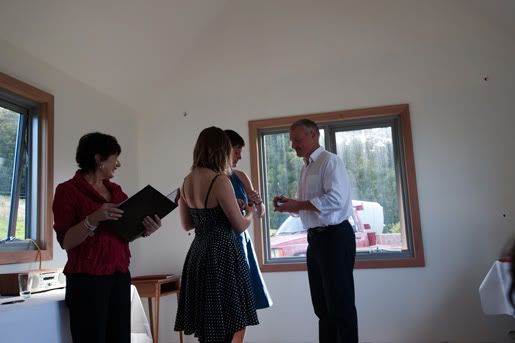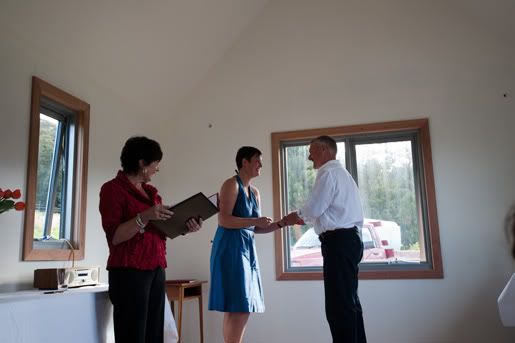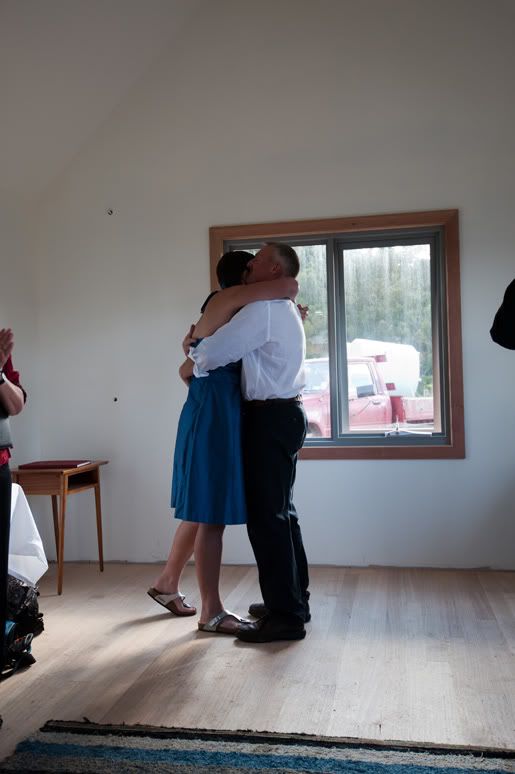 We cut our orange & cumquat wedding cake, and the beautiful cheese.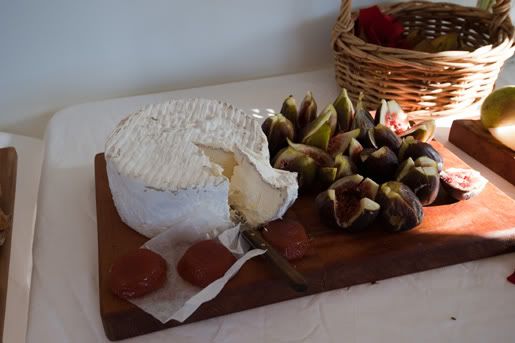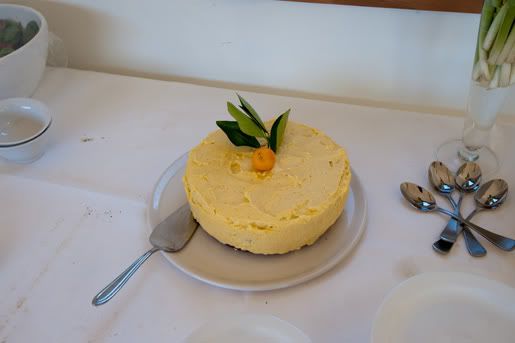 Rob opened his gifts which included a mirror made for dogs to admire themselves in, and a personalised hut apron! Our family and friends relaxed now, wandering around the block, the dogs romped through the grass. The bride may have been seen running after them in her silk dress and blundstones. Then the sun started to fall, and the golden sunshine that had been with us all day started to fade, our guests left with huge smiles and little hut biscuits with heart shaped windows, and Rob and I packed up and smiled to ourselves- we had surprised them all!
It was indeed a 'cracker' day.