Rob and I are in a rush, obviously. Although we'd been organised enough to do our shopping on Friday night so we didn't waste time through the weekend, our weekend disappeared in a flash.
We'd picked up some Comte, Brillat Savarin and a third French cheese with some Pigeon Hole bread from Bottega Rottolo. We scurried home to savour our cheeses with some wine and just sat and chatted. Very civilised, we decided it might have to become our Friday ritual.
Saturday dawned, with the promise of sun once the frost melted and the fog lifted. An early morning delivery of fine crushed rock got Rob excited.
I took a moment to take a picture of our new arm chairs. We're qutie happy with these little beauties, 1961 Fler Narvik chairs in blackwood, with new upholstery, webbing and cushions? A bargain even with the freight from Adelaide SA!
Sadly my photo shoot was cut short by an impatient puppy.
I kepy myself busy inside with baking bread following this
recipe
, cleaning our hut, making some vegetable soup for lunch, baking a tea cake, and making spanokopita for our dinner.
By the end of the first day after extensive excavations most of the gravel was laid out.
On Sunday I oiled all the kitchen joinery with Chinawood oil. A job that had been on the to do list since we moved in 3 weeks ago. It doesn't actually smell so bad, and is very forgiving of my painting technique.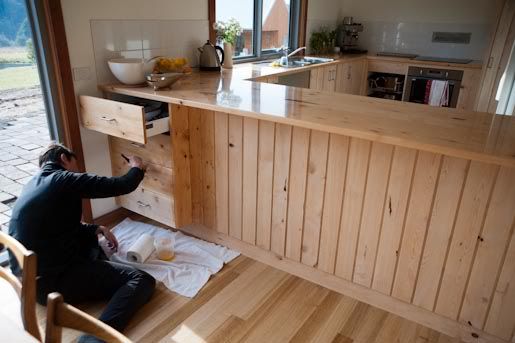 With the gravel done and the oiling we did drive off to pick up our fruit trees from Woodbridge Fruit Tree farm, with the hoped for bounty of quinces and cider apples.
Rob moved onto letterbox building while I did a little baking which is quite a delight in our new kitchen.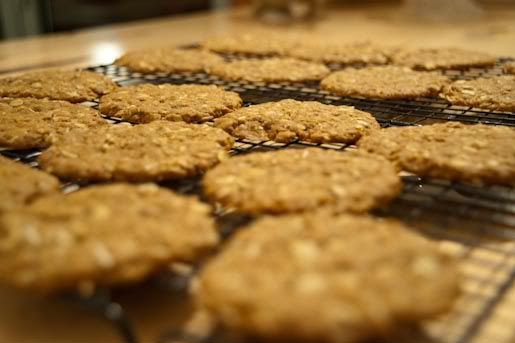 At the end of the day we sat exhausted over a dinner of baked potatoes with Cygnet bacon and cheese. We crawled off to bed early as we could barely keep our eyes open. I hope we learn to slow down a little at the hut!