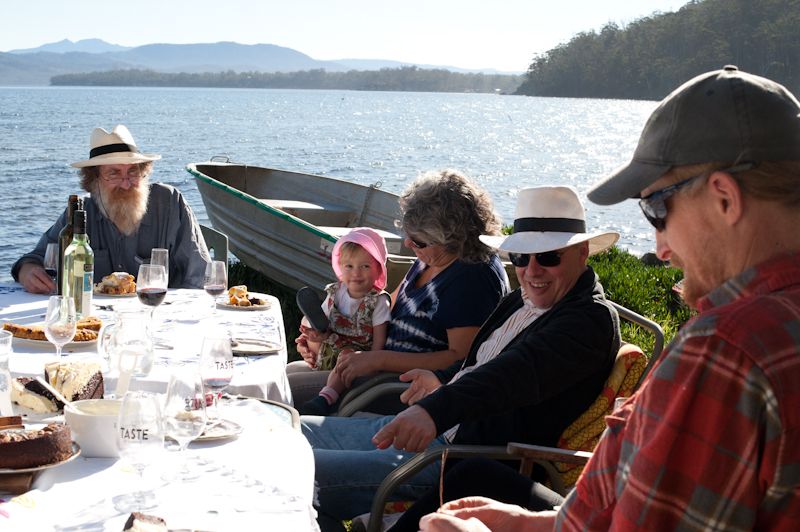 Yesterday we had a pretty much perfect Father's Day. I woke up first and went and got the coffee machine going and collected the gifts for Rob from the fridge and the garden. He woke up on the mattress on the floor with Elisabeth, Maggie slumbered on a little longer on the bed.
The girls proudly gave him the card they made at family day care and a little red takeaway box of fudge, and then preceded to help him eat it! Our gift were three pepper trees and some strawberry plants. After breakfast of toast and coffee we headed outside together to plant them. Rob declared them the perfect present.
We headed over the hill to Cygnet, the car packed with lunch provisions, picking up some fresh rye sourdough at Red Velvet Lounge we continued onto Garden Island Creek to celebrate a birthday (albeit belatedly) with friends who own the most perfect beachside shack. The day was gorgeous, we were all in shorts, t-shirts and Birkenstocks. Lunch with our friends always comes together with the least amount of fuss or organisation, a cheese platter, foie gras and our quickly-cured ocean trout (with lime juice, olive oil and decorated with dill, gherkins and capers) served with the fresh rye started proceedings with a bottle of bubbles. Main course was osso bucco and bbq sausages cooked over the sea-side open fire. We all have gardens so the sides are always impressive, salads, home grown potatoes, fennel, broccoli. The table outside looked over the water, and it felt almost summery with the warmth of the sun and the consumption of red wine. The girls sat in our laps quietly taking it all in, sharing our plates. Wet dogs ran in amongst our legs looking for tidbits.
Dessert was an array of cakes, our Chocolate Guinness cake joined a perfect duck egg sponge filled with cream and strawberries, a Kentish cherry almond cake and a Persian Love Cake! We had to drag ourselves away around 4pm, when the girls were looking a little tired.
Maggie: During dessert she relaxed and was happy to sit on our friend's lap to share her plate of cake. Smiling with her face covered in cream.
Elisabeth: Is more reserved in company, and stayed close to her Papa, preferring to hold onto his knee and just take in the conversation.
Joining in with Jodi's
52 portrait project
at her blog Practising Simplicity.