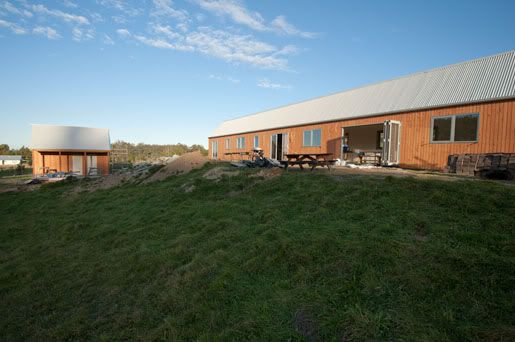 This photo was taken at Easter, some landscaping has happened since, but poor Rob has been flat chat trying to actually work as well as chase up numerous fitting choices such as lights and carpet etc., that I haven't had the heart to ask for a more recent photo.
I have to say I'm over this whole building caper. I should be more excited than I am.
But well, I'm not. Not excited by mess and mud. Not excited about chasing up lights because we didn't realise the house hadn't been wired for low voltage lights. Of the timber not turning up for the internal walls.
I walked around inside on my own yesterday, looking at each room. Trying to picture us there. It's so lovely and quiet inside our hut. It was blowing a gale outside but the sound was muted inside, I felt protected from the Autumn weather.
We were both happy to see our celery top kitchen benchtops start to take shape at the builders workshop. That was definitely pleasing to see! The myrtle window seat and bookshelves look gorgeous too.
I think I'll be excited when I hold that occupancy certificate in my hand. Or when I get to put our things into the kitchen or our wardrobe. Make our bed and go to sleep that first night in our bedroom.
Hopefully our wait is nearly over.