My secret will only be of interest to those of you who are lucky enough to live in Southern Tasmania, within driving distance of the patisserie
Sweet Envy
.
Last weekend we discovered Alistair Wise's potato bread.
This weekend we headed straight to Sweet Envy on Saturday morning.
Of course we meant only to buy the Potato bread.
But the guy serving us asked the question "have you tried the other breads?"
When we said no, he proceeded to describe all of the loaves.
Rob listened attentively, I watched for his reaction.
"we'll have one of each then!"
So we ended up with a lovely chewy ciabatta, a dense potato and bush honey sourdough and the potato bread. Oh and a lemon macaron and a pecan sticky bun.
Our pile of white paper bags on the countertop caught the attention of Alistair himself as he wandered in, he exclaimed "now that's the way to go!"
I recognised him from magazine photos, and I have to admit, I may have gushed just a little, when I told him how "amazing" the potato bread is.
(Afterwards I thought I could have thought of something a bit better than amazing, obviously I have been watching too much of a certain reality cooking show at the moment!)
It's chewy, salty, buttery, crisp, like a giant chip with olives and rosemary.
Apparently it's better warm (according to the guy serving us), although we had to admit it didn't have a chance on getting anywhere near an oven before we were going to devour it.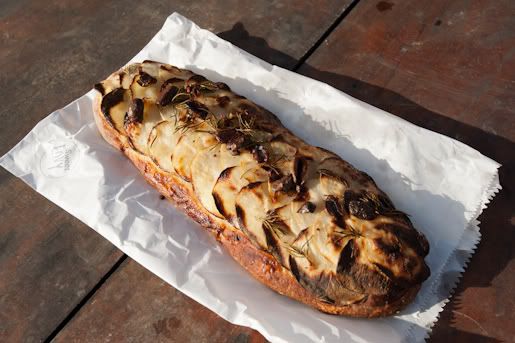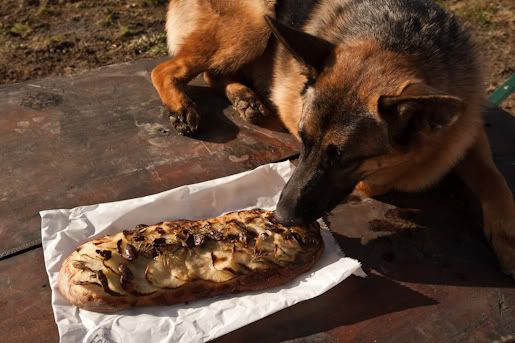 Claudia approved too.
I had to share it with you- but please don't tell too many people!