I couldn't go through another weekend of frantic jobs, just to ensure I ticked them all off my list. We tried to be better at slowing down. Friday night was a good start, a bottle of French red with a lovely French Brie and an Italian hard cheese pressed inside grapes. We lingered at our table chatting and enjoying the cheeses.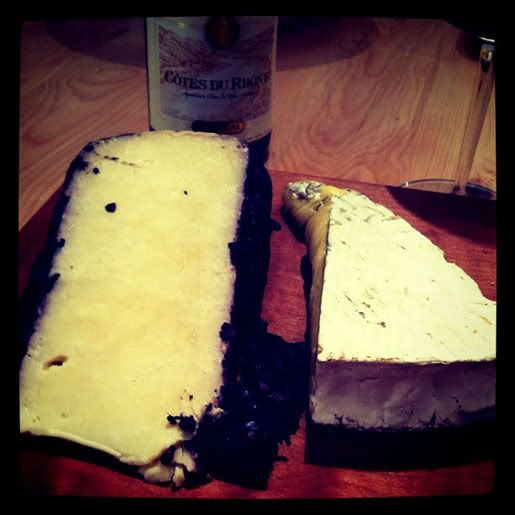 The weather was a little kinder this weekend- warmer, some sun, although the occasional shower did catch us unawares. Rob did have an important project- building a compost bin- our compost has been going to waste, and as we don't have rubbish collected making sure we cut down on our waste is paramount. So while he started sawing and measuring, I baked a chocolate cake- after watching Annabel Langbein's tv show, the Free Range Cook, we couldn't resist the book. For once I am trying to be good and cook all the things we'd like to try from a new book- this resolution may be sorely tested soon, Rob has just ordered 15 news books from Amazon (only 13 are cookbooks!)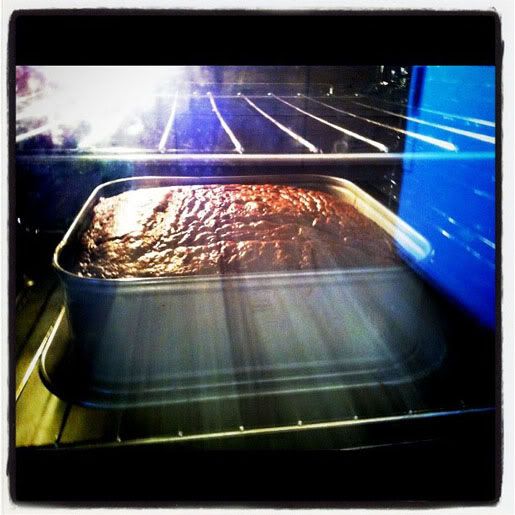 I made sure we took the time to enjoy a cup of tea, and a few walks around the block to watch the dogs wrestle in the mud.
The hut is quite peaceful- although this weekend we had several types of bird visitors, our resident pair of geese (they have adopted us), flocks of native ducks who appeared to be fighting over the dam, cheeky currawongs that liked to tease Claudia and the occasional robin. I'd love to get clever enough to recognise all their calls and songs. But at the moment I just listen and wonder what they're trying to say.
We did go shopping on Saturday, we've been living without a mirror in our bathroom since we moved in. As someone who is extremely short sighted and has to put in contact lenses every day this has been a bit of a trial- the little hand mirror on the bench top wasn't going to cut it for much longer. So we headed into town to visit our favourite second hand furniture shop, after looking around we couldn't really find the right one, but we had a chat to the owner, and knowing our fondness for retro he ran out the back and came back with a simple blackwood framed mirror. Back home it was actually a bit big for our bathroom, but suited the guest bathroom better so we swapped the round mirror to our room and hung the new mirror up. It was a little marked from water or the sun, but as I was oiling the kitchen joinery I just ran the cloth over the frame and it improved it markedly.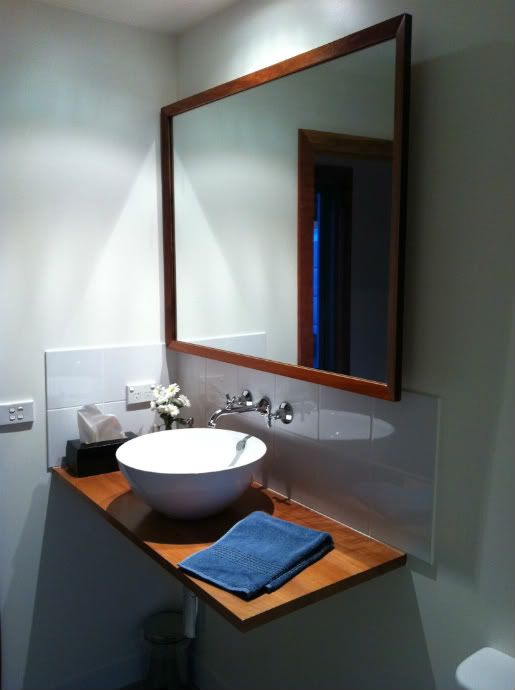 We made good use of our kitchen on Saturday night and cooked a special meal, just for us. I steamed some mussels open, then topped them with a salsa of lemon rind and flesh, roasted and chopped up almonds, garlic and parsley. Then we blitzed them under our grill. I was quite proud of these, sorry I didn't get a picture, they were begging to be eaten. Rob tea smoked a piece of Salmon in the Weber, it just had a marinade of whiskey, sugar and salt. We ate it with a potato bread from Sweet Envy and a bottle of bubbles. The salmon was so tender, meltingly so, like it was confit. A slice of chocolate cake with a wicked ganache icing and a cup of chocolate tea for dessert. Another excellent meal together. It's still such a novelty for us both to be able to cook in the kitchen together. We love it.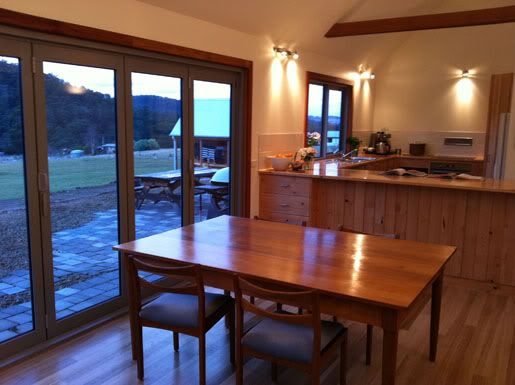 Sunday was spent finishing the compost bin, I was even allowed to use the power tools to help! Then we put a second coat of tung oil on the kitchen cabinets, and then while we were at it we decided to oil all our retro furniture, rejuvenating them beautifully.
We're getting better at living at the hut now, maybe we'll be able to relax once the long awaited window seat is finished, which I'm hoping is soon!