Finally something to share. I meant to take photos the week before but the weather was so terrible I didn't get a chance to.
My spring flowers have started. Bright red tulips, deep blue anemones, lipstick pink anemones, white anemones, pale blue spring star flowers, nodding Hellebores, and just the last couple of days the pink Claudia tulips have started to expand and colour.
It's so nice to look out our bedroom window and see them in the morning. The blue wrens have been a bit confused by the blue anemones. The poor males are having to compete with 50 bright blue anemones, to which the females are irresistibly drawn!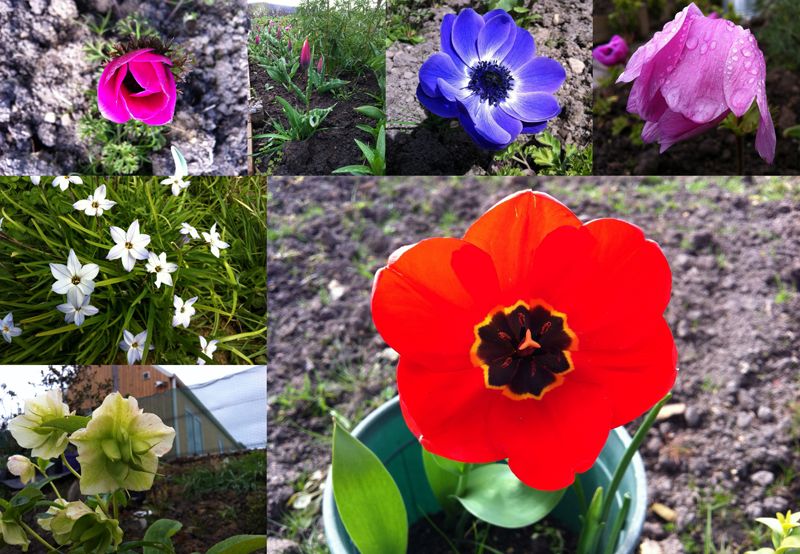 The vegetable garden is starting to get going too. We're eating fresh silver beet several times a week. The broad beans and peas are flowering which hints of tasty fresh beans and peas to come.
Garlic and shallots are hopefully fattening up beneath the soil, if their leaves are any indication of their happiness.
The carrots and parsnips are starting to actually grow so we may get a few of those too sometime soon.
We're even eating the tops of the Savoy cabbages (we put them in a little late to actually have cabbages).
We're hoping to put some new lettuce seedlings in soon, as well as a new sowing of rocket.
Fine little asparagus spears have emerged, but we will have to be good and let them be for this year. I'm already looking forward to our first harvest of home grown asparagus next year. One of my favourite vegetables.
The orchard has started to bloom, almonds, the peach and nectarine, plums, apricots and now the apples. The alpine strawberries are flowering and expanding too.
Hopefully Friday flowers is now back for the season!
Hope you have a lovely weekend.