So yesterday afternoon I totally undid any calm or peace I may have felt after pregnancy yoga by my second attempt at maternity bra shopping. The less said about the bra I ended up with the better. In my defence it was the only one in my size in Hobart and I really needed one. (Rob's verdict was not pretty, when I was trying to get dressed this morning, the words "the most horrible bra ever" may have passed his lips, needless to say I have jumped online to find a less grandma like bra this morning and I am just praying it gets here QUICK).
Anyway, I drove home to find Rob had cleaned the whole house and picked fresh flowers from the garden. This stunning rose was next to my bed. Which instantly made me forget the shopping.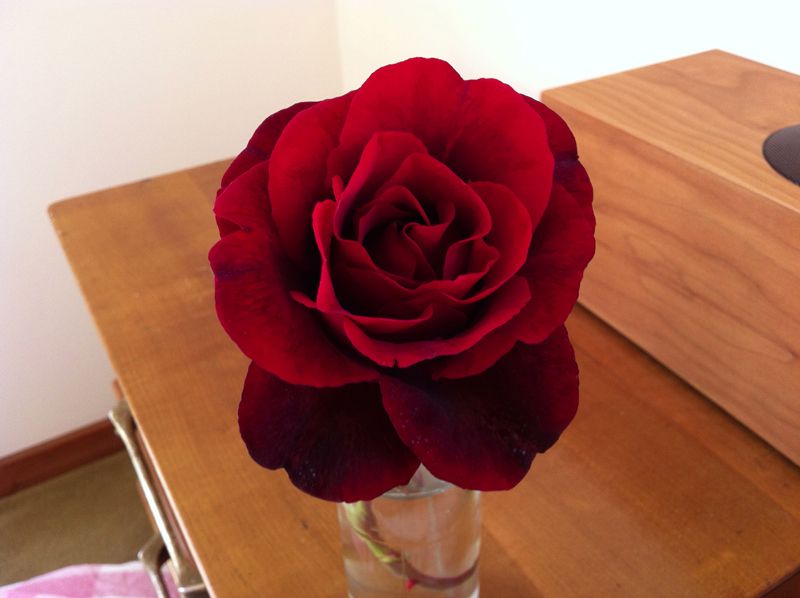 I exclaimed over it's colour and form, and how beautiful it was. I couldn't tell which one is was so asked him. Rob looked a bit sheepish, and said "you're not going to be happy about this, it's Limona". I didn't quite get it at first, as Limona is a pale yellow. Rob had to spell it out, they've mislabeled the rose and I've planted it in the middle of my yellow roses! Maybe I shouldn't be so particular about my rose plantings, but this is going to stick out like a sore thumb! May need some rearranging over winter.
This weekend we're having guests over for lunch on Sunday, so there will be some cleaning, baking and cooking to be done.