My clandestine love affair with the colour red had remained hidden until recently. I don't think I can deny it any longer. I thought perhaps I'd moved on from red. The hut was going to be cream, blue, and sandy yellow.
But red has been creeping back into our life.
It started when I unpacked our favourite red stoneware plates and bowls. Suddenly, I wanted to serve all our food on them. I know white dinnerware is more chic, that most food looks better on white. But every time I opened the crockery draw (that in itself is quite a novelty!) my hands would pass over the neat stack of white plates and choose the lovely glossy red plates.
Then I remembered a happy afternoon spent in an Italian café at Cottesloe Beach, and loving the look of their bright red napkins on the long communal timber tables, and thinking one day I'm going to have a table just like that. So I picked up a set of plain red cotton napkins recently.
Our bedroom also got the red makeover. We'd always had a cream bedspread. But then we got Claudia. She can't help herself, she loves beds. But she also loves mud. So we thought this red check would camouflage the worst of the paw prints.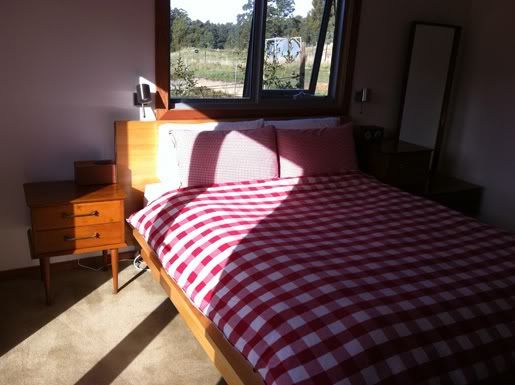 My favourite jam just came back in stock at Coles, I love their gingham lids, as you can tell.
Rob found us these Fler Narvik chairs on ebay, we'd be on the look out for pair, and happily for us they came newly upholstered, in lovely soft red chenille corduroy.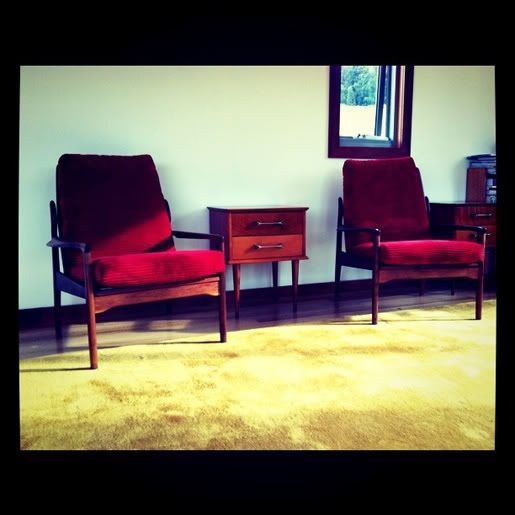 So now that Rob shares my love affair, I can quite openly sneak some more red into the hut. I found these red reindeer tealight holders at Spotlight on Saturday. Kitsch I know, but also beautiful at night. It's going to take all my will power not to keep using them every day until Christmas.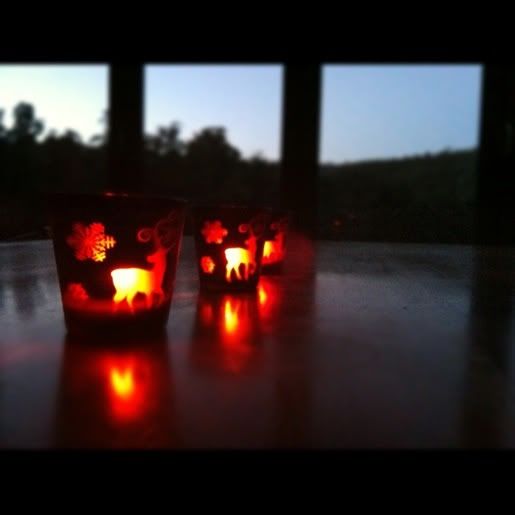 Finally the window seat arrived last week. We'd oscillated over the colour of our cushions for over a year. Blue? Sandy yellow? I've ordered enough samples from Warwick to make a bedspread! But none of them were quite right.
We sat on our makeshift cushions. We looked at the samples. I looked at Rob. "You know what I'd really like?" He laughed, I think he already knew, "I'd like a red check just like our bedspread!" Not quite as elegant as we were originally planning, perhaps a bit clichéd, but at the moment it feels right for our little hut in the country.
Welcome back red, I've always loved you.