Just a paper daisy today for my Friday Flower pic. Things are still a bit dull at the hut garden.
So somehow my week has disappeared again. Yikes, I've only got two weeks of work left until my month off, so I'd better get my skates on, I still have to write a 12 page newsletter for distribution and organise a media event, as well as hand in my annual work plan (6 months late!)
Last night we had dinner at my parents house. Truthfully, my mother doesn't really like to cook, she finds it stressful, but last night it was nice to just have dinner with them and my brother who still lives at home, rather than the whole clan. She made an "Italian Beef" casserole, and was quite adventurous with the dessert, a orange and lemon flavoured custard with risoni pasta, topped with a meringue with currants and almonds in it. I've never had anything like it before. I quite like the currants and almonds in the meringue, and the custard was tasty.
In our after dinner conversation we started talking about people who dominate conversations, or just simply talk too much or too long on the phone. Rob said, well you can always use Hazel's classic line, - 'well I'd better let you go now, bye.' I was stunned for a second, and asked him do I really say that? Apparently I do, all the time. Driving home, I ran recent phone conversations over in my head, then I asked Rob, do I use it on you? There was a little pause. Yes. I started apologising, I felt a bit sheepish really, perhaps everyone realises this is my captain subtext (to borrow a
Coupling
term) for I think you're talking too much, I'd like to go now! He laughed at me, and said it was ok, he didn't take it personally, but rather admired that I managed to make the other person feel like they had so many more important things to do! My only excuse is, that I'm not really big on talking on the phone, I don't really enjoy it, so I guess I'm trying to minimise my phone calls.
So with that uncomfortable realisation shared, I'm looking forward to the weekend. We're going to make a Christmas tree. That's right, we're going to get some wire and tape, and a pot with some rapid set concrete and we're going to attach the little led lights to the branches. Fingers crossed it works.
I've been finding little decorations for my red theme. Some little red stocking garlands to hang up around windows, and some cute reindeer for the tree. Also some of my recent online purchases have started to arrive, some stationery love from
Kikki.K
(had to be very disciplined there) and some wrapping paper and accessories from the
Wrapping Paper Co
. Oh yes, I've got it bad and there's still 30 sleeps until Christmas.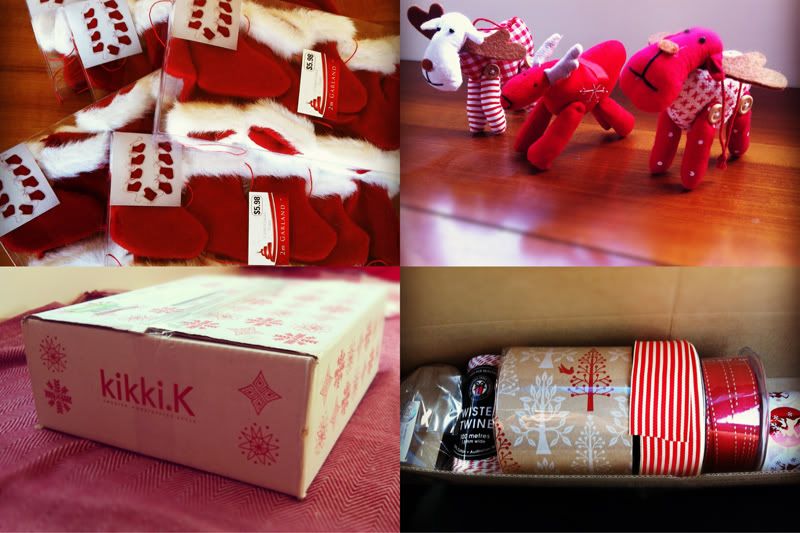 Indulge me with one more photo. This day last year we drove down to the Huon valley, a little nervous, but very excited, and picked up this ragamuffin. She was a bit naughty in the back of the car, barking and trying to play with a shell-shocked Nigella. We got home and she took over the backyard, claiming all the toys and running around like a crazy thing. She has grown up in many ways, but Claudia certainly lived up to her kennel name "Mistress Very Sassy"! Despite her attitude and chewing habit, she does make us laugh, she is a very good snuggle dog, a companion for Nigella and us, and we wouldn't feel a complete pack without her now. Wonder what the next year will bring?