No new flowers in our garden this week, but it is looking promising on the lily front, just hope that the terrible strong winds we've been having at the hut calm down soon, as they're a bit vulnerable to the gusts that hurtle down the back of the hut into the garden.
So given my present preoccupation with all things Christmas I thought I'd share one of my favourite native flower photos that Rob has taken. It always makes me think of an icy-pole for some reason.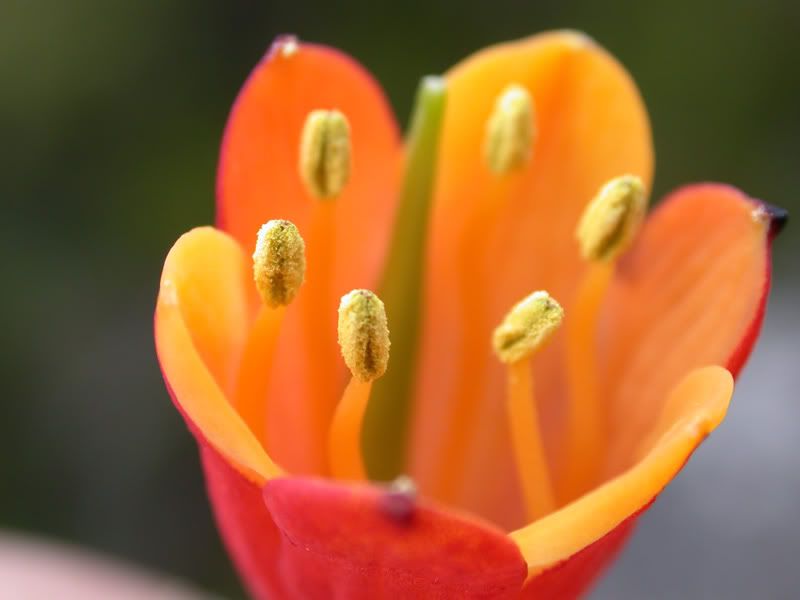 Blandfordia punicea, or Christmas Bells, is a large tufted native species that grows in button grass and damp heaths on very nutrient poor soils, ranging from Bruny Island, south-west Tasmania and reaching Rocky Cape.
I've suddenly realised that Christmas is only 37 sleeps away (thanks to my iPhone Christmas app - ok you can stop laughing now!)
That fruit I started soaking a couple of weekends ago might have to transform into some cakes this weekend. I have just ordered some Christmas cards from here, and some wrapping paper from here.
We're starting a modest stockpile of presents in the spare room.
Apart from my honeycomb decorations we might have just had some inspiration on the tree front.
I saw a cute twiggy Christmas tree covered in little LED lights. I wasn't so impressed with the price tag, so after buying a set of 200 LED lights from BigW we're going to attempt to make our own tree. Watch this space (I hope!)
I'm still on the lookout for two pairs of angel wings- if anyone has seen any (that aren't too extravagant) let me know.
Hope you have a wonderful weekend.