No flowers in the garden this week. Yesterday I posted a photo of my nearly complete flower garden on Facebook. My friends loved it. I've realised that I haven't really been documenting the garden progress here on my blog. I think it's wanting it to be finished before I show it off. The in-between stages are not so pretty, but I've decided to show you how far we've come. I'm about to put in an order for some spring bulbs and roses, so come spring that garden is going to look spectacular.
To give you some idea of the lie of the land before we started playing around with it, this was taken in January 2009. The orchard was smaller then, only 16 trees, so if you can imagine the orchard extending up to the fence at the right of this picture, my garden is sitting in front of that. The house site wasn't even there at this stage.
I always knew I wanted a flower picking garden. Rob was busy planning his vegetable garden which was going to sit below my flower garden between the orchard and the laundry hut. But I drew a plan of what I think of as my garden, some of the plants I chose may have changed (not sure what I was thinking about with the privet hedge), but the structure stayed the same. Whilst the plot only gently sloped, ideally I wanted my garden flat. After the driveway was put in, all the extra top soil got dumped over the future garden site. This was excellent, except it was following the slope of the land. Some of the positives of taking so long to build was that we'd been through a few winters. So we knew where the water drained through the block. Our garden was in one of the natural drains that led to the dam. So in winter it got quite boggy.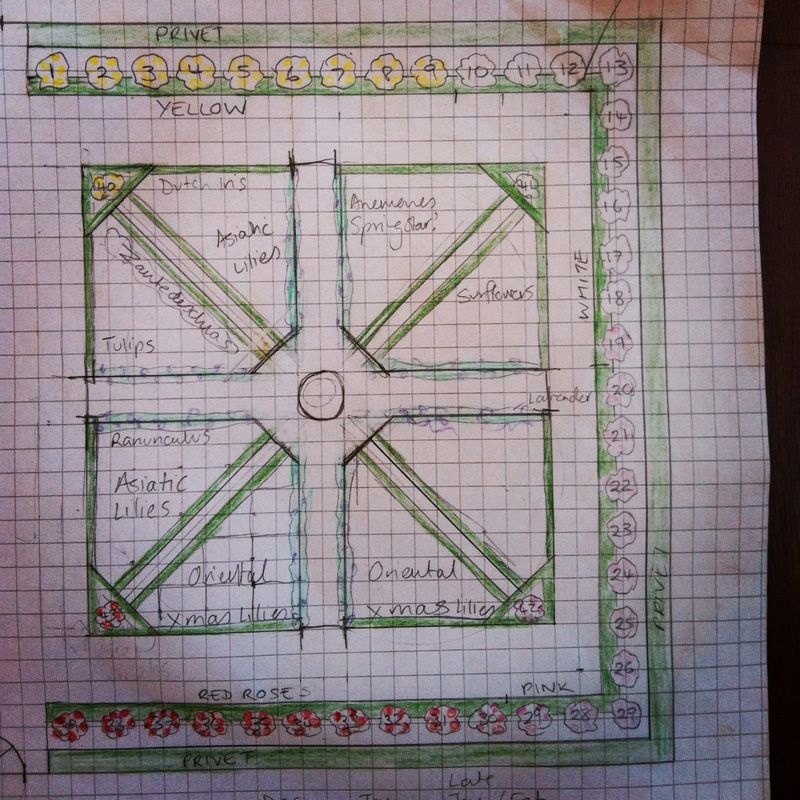 So in late 2009, after finding out we couldn't build the hut that year, we took our heavy hearts to the block, and we started digging. We dug down about a metre at the top end and moved it to the bottom to build it up. We left drains open underneath the 3 paths, and one along the back of the top bed. Sure we could have got a mini-excavator in and it would have happened in a day. But we were watching every dollar, and hard work never hurt anyone did it? There was something therapeutic about the digging and moving. We were at least doing something for our home.
Rob working hard, by now we had extended the orchard. The 5 week holiday we had booked that Christmas, thinking we'd be helping with the hut build, we spent digging. We'd take a radio, tea and lunch and spend the whole day there. You can see digging is very fashionable work. Maybe you're getting the scope of how much soil we moved?
Things slowed down for a little while but in spring 2010 we finally finished off those drains, the ag pipe draining through my garden and Rob's. We laid them in bluemetal, and then finally covered up those drains.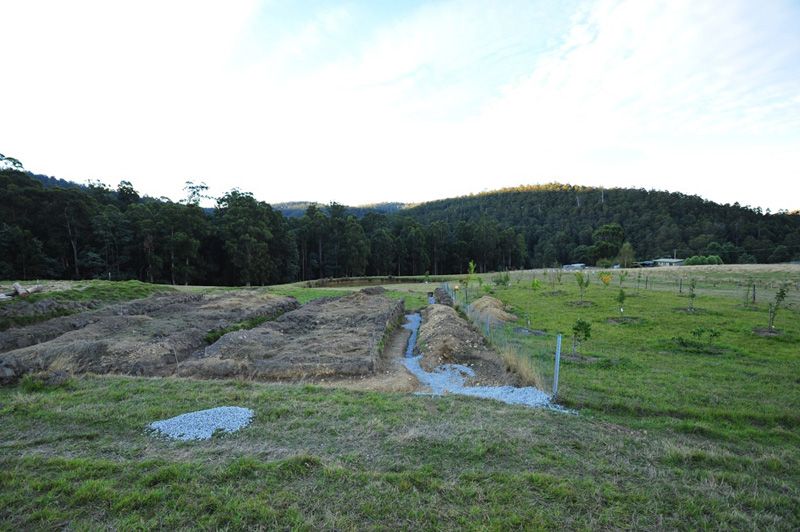 By now the hut had started, creating yet more top soil, again we thought the hut would be nearly finished so Rob had booked some long service leave to help out. Sadly the hut was only at the framing stage! Besides I'd burdened him with a 4 month old puppy which probably wouldn't have helped. He still headed to the hut, but spent his time moving the new soil into his garden. I would come down and do inspections.
Rob borrowed a rotovator and tilled the soil in both gardens. It did look neat, of course the pasture grass grew back, and will continue to do so until we mulch. This year for my birthday Rob gave me some timber to create the flower beds. We inherited some pavers for the paths, so he set to work making those beds.
This is where we're at as of last week. We need to finish off 2 beds, plant my bulbs and roses, mulch all of it and lay some gravel on the edges of the pavers.
I can't wait for spring, and to show you flowers every Friday from here. Now we can concentrate on Rob's garden. Then I think we both deserve a holiday that doesn't involve digging (particularly Rob)!
Thank you Rob, my garden is perfect.