How can it be the last week of March already?
This last week flew by, with my trip up to Brisbane, the weekend was upon us before we knew it. Poor Rob had a cold this week, so with the cold weather on the weekend a pot of soup and a casserole was in order.
This weeks menu:
Monday: After making a zillion spinach and ricotta triangles (Claudia Roden's recipe) for a Harmony Day lunch, I came home with the leftovers. We reheated them and made a Lebanese salad to match. I finally used the purslane I insisted we grow, it's nice and crunchy in salads. We froze the remaining triangles for an emergency meal some time.
Tuesday: Another salad with soft boiled eggs, prosciutto,
Meredith Dairy Goat Cheese
.
Wednesday: Our cheat's ravioli - see below for the recipe.
Thursday: Massaman Curry, whilst I was in Brisbane. I need to cook this one at home, I haven't eaten it before I don't think, if anyone has a favourite recipe for this curry please pass it on. Oh, and I couldn't resist the chocolate tart either.
Friday: Beef pho in the Canberra airport.
Saturday: Vegetable and barley soup.
Sunday: River Cottage
Chicken and mushroom casserole with Cider
. Best thing was there are enough leftovers to eat on pasta tonight after work and the gym.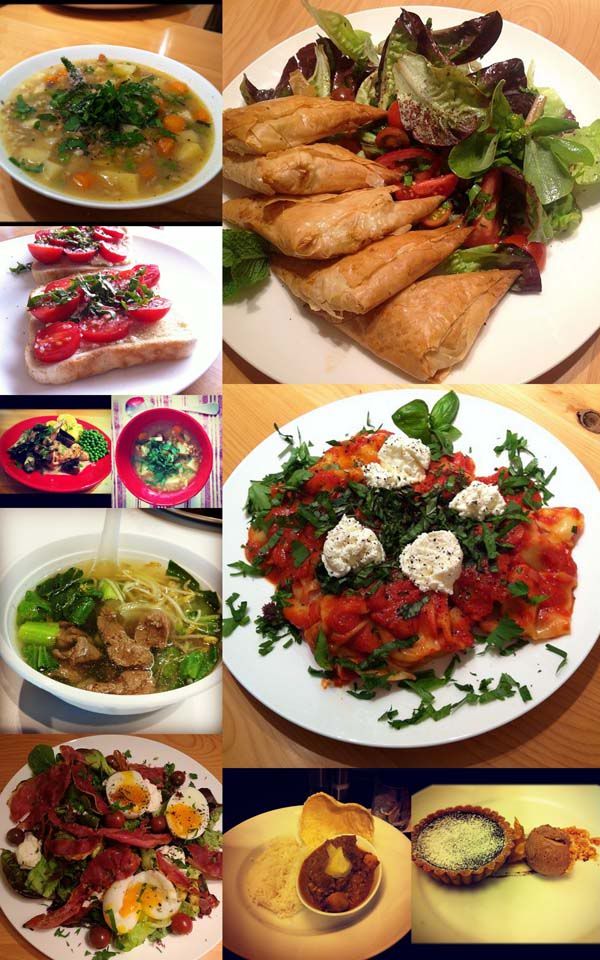 The Hut Ravioli
As we ran through the supermarket the week before, we grabbed a packet of wonton wrappers from the refrigerated section.
We hadn't used these in a long time. But we had a faint memory of seeing Simon Bryant use them on the
Cook and the Chef
as ravioli instead of fresh pasta.
It was a week night, which means by the time we've been to the gym, collected our dogs from doggie day care (ie my parents place) and driven to the hut it was probably around 7. We decided to "make" ravioli for dinner. A week before I made a batch of Nigella's meatballs and frozen them for use in pasta and soups.
250 g pork, minced
250 g beef, minced (or we used 500g pork and veal mince)
1 eggs
2 tbsp parmesan, freshly grated
1 clove garlic, minced
1 tsp oregano
3 tbsp semolina, or breadcrumbs
1 pinches pepper
1 tsp salt
To make the meatballs, just put everything in a large bowl, and then, using your hands (if you wet them with a little water the mix doesn't stick as much), mix to combine, before shaping into small balls.
So I wrapped (a still frozen) meatball in between two wrappers (sealing the edge with a little water and squishing it out a little so the joins were not too thick). Meanwhile Rob quickly fried a chopped onion and some garlic in a little olive oil before adding a bottle of tomato passata. We quickly boiled the ravioli then added them to the tomato sauce to finish off.
We served them with some dollops of ricotta cheese (left over from the triangles I'd made earlier), lots of chopped fresh basil and some grated parmesan.
They were good. I think we might have to try another filling this week. Any suggestions?