This has been kicking around a few blogs so I thought I'd have a go at it.
Trying out our wardrobe with Claudia and Nigella
A // Age: 33
B // Bed size: Queen. No room for me when there are two German Shepherds and Rob!
C // Chore that you hate: Ironing. Boring. So we go around a lot in creased clothes. I'll always remember my grandmother's advice "move around a lot and no one will notice!"
D // Dogs: Nigella (6.5yrs) and Claudia (1.5yrs). If you're a regular reader of my blog you will know just how spoilt they are.
E // Essential start to your day: Putting my contact lenses in. I don't feel awake until I do.
F // Favourite colour: Red. Ahem, quilt covers, clothes, window seats, napkins, dining chairs, lounge chairs, plates. Guilty as charged.
G // Gold or Silver: silver.
H // Height: 181cm, with the stretch marks to prove it. I grew so fast (14cm one year) that I still have the scars on my hips!
I // Instruments you play: piano, a long time ago. Romantically I have this dream of the third hut, with my grandmother's
piano
, and Rob sitting while I play Bach. I can dream.
J // Job title: Project Officer. Which doesn't really describe what I do, I manage the communication activities for a national marine observing system.
K // Kids: Rob's daughter, 16.5yrs.
L // Live: at the hut, in the channel region of southern Tasmania.
M // Mother's name: Maria. My grandmother was Maria too , I think my Dad wanted to call me Maria too, but my Mum didn't want a 3rd Maria, so added a 'n' to make Marian. Hazel is my middle name and is my other grandmother's name.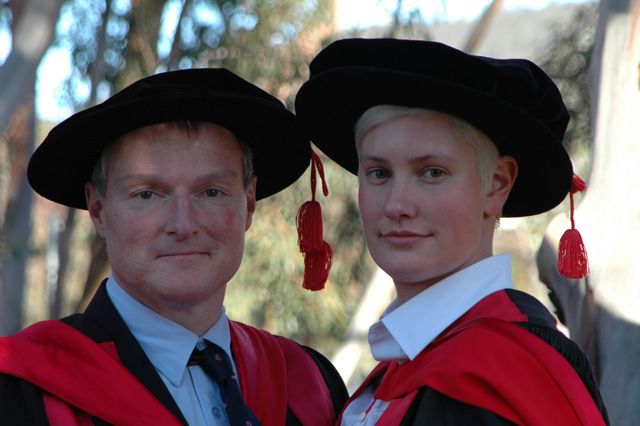 Rob and I in our silly hats and gowns.
N // Nicknames: Maz (siblings) or Bunny (Rob).
O // Overnight hospital stays: Once to have all 4 wisdom teeth removed.
P // Pet peeve: I asked Rob what he thought this was, his reply "self-absorbed people". I know there's an element of narcissism in us all, but some people go beyond that, and it drives me crazy.
Q // Quote from a film: Well a TV show, the term "captain subtext" referred to in the UK comedy Coupling. Rob and I often use it, when we know that although we have or someone else has said one thing, really we/they meant something very different indeed!
R // Right or left handed: Right.
S // Siblings: I'm the eldest of 5. I have 2 sisters and 2 brothers.
T // Time you wake up: I wake up around 6.30, when I get up is a whole other matter...
U // Underwear: I'll let you in on a secret, Jockey comfort classics in bamboo. Soft, stripey and comfy.
V // Vegetable you hate: Brussel sprouts, i used to swallow them whole as a child!
W // What makes you run late: checking blogs or Instagram.
X // X-Rays you've had: hips, knee.
Y // Yummy food that you make: Again, if you read this blog I think you'll know we make a lot of food, and most of it I think is pretty tasty (just don't ask me to make scones, big failure), but the recipe that I get asked for most, and use the most, is
Nigella's Chocolate Guinness cake
with cream cheese frosting.
Z // Zoo animal: I have to admit that the last time I went to a zoo I found it a little depressing. The larger animals looked sad, or seemed to be acting a little crazy. That said, my favourite animal were the otters. They are such characters.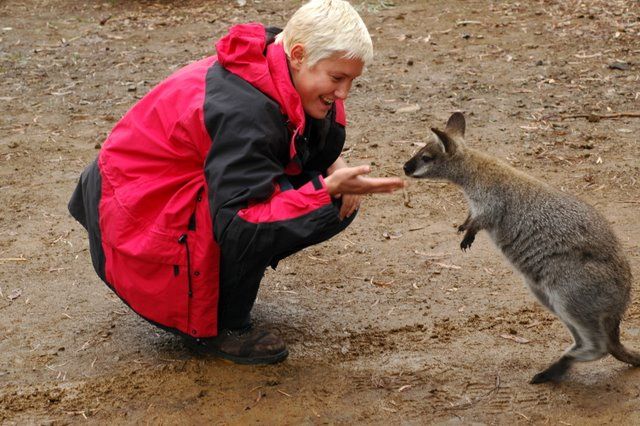 I like seeing animals out in nature, like this cutie on the East Coast of Tasmania.
Well you might know a bit more about me now. Happy Easter. I'll be dropping by here over the holiday.