So first up, today is a special day at the hut.
A year ago today we invited our closest friends and family down to the hut for Rob's birthday party.
It was meant to be a house-warming too, but the build of the hut hadn't quite gone as fast as we'd thought.
But that didn't matter, we ate all our favourite foods, drank sparkling wine and enjoyed the sun.
In between main course and dessert, we had organised a little surprise.
Just a little ceremony.
I can still hear the gasp.
Happy 1st Anniversary Rob, it was a perfect day and our first year has been a memorable one.
(If you'd like to read the full story of our surprise wedding last year click here).
Back to our menu.
Monday: Beef and red wine stew.
Tuesday: Gres de Champenois with fresh figs and salad.
Wednesday: A tomato based pasta sauce with eggplant, zucchini, olives and fetta.
Thursday: Pork sausages and mash with home-made tomato sauce
Friday: Pesto and potato pizza (see the recipe below).
Saturday: Margaret Fulton's tarragon roast chicken with roast vegetables.
Sunday: Yum cha and Me Wah. Steamed dumplings and roast duck and many other delicious morsels.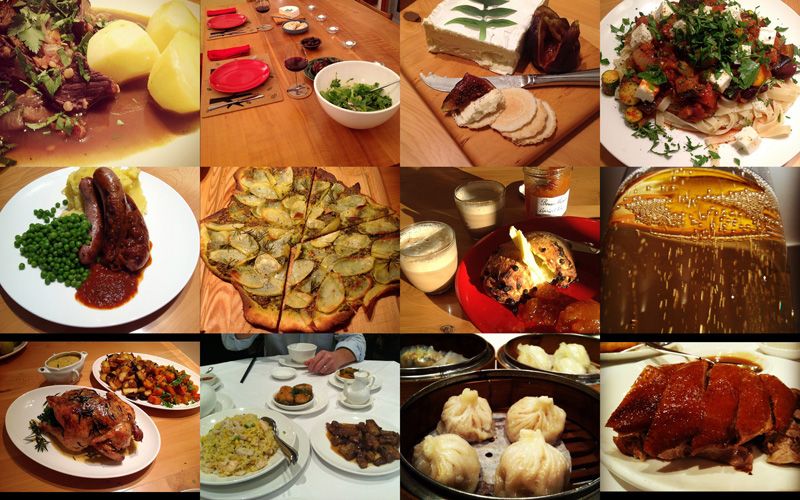 Rob used this bread dough below for the pizza base.
Annabel Langbein's Crusty Flat Bread
This is a wonderfully supple focaccia dough that makes enough for two large loaves. You can freeze half the dough to cook later. We used leftover mashed potato, but if you don't have any in the fridge, boil potatoes until tender, mash them and allow them to cool before adding to the recipe. The wetter the dough is, the lighter the finished result will be, so don't be tempted to keep adding flour.
Prep time: 20 minutes + 3 hours rising, or 12 hours in the fridge.
Cooking time: 25 minutes.
Makes two large loaves.
Crusty flat bread dough
1 ½ cups warm (not hot) water
1 ½ tsp dry yeast granules
1 packed cup cooked and mashed potato
¼ cup extra-virgin olive oil
4 ½ cups high-grade or baker's flour, plus extra for kneading
2 tsp salt
Topping
1-2 Tbsp extra-virgin olive oil
2 tsp fresh rosemary leaves
½ tsp sea salt
Place warm water in a large mixing bowl (a breadmaker or electric mixer with a dough blade is ideal, if you have one). Sprinkle yeast over the water and allow to stand for 2 minutes. Mix in the mashed potato and the cup olive oil. Stir in the flour and salt and mix until the dough just starts to come away from the sides of the bowl.
Turn the dough on to a lightly floured board and, using lightly oiled hands, knead about 30 times (or for 3-4 minutes on the dough cycle of a breadmaker). Place the dough into a lightly oiled bowl. Cover with muslin or a teatowel and leave to rise in a warm place for 3-4 hours, or until it has doubled in bulk. You can also leave it in the fridge, covered, to rise slowly overnight.
When you're ready to cook your bread, place a baking stone on the centre shelf of the oven and preheat oven to 220degC. Turn the risen dough on to a lightly floured board, divide in half and shape each half into a ball. Roughly flatten one ball on to a tray lined with baking paper, pressing the dough out to an oval shape about 25 x 20cm. Use your fingertips to press dimples into the top of the loaf, then drizzle with olive oil and sprinkle with rosemary and sea salt. Slide the baking paper with the dough on it off the tray and on to the preheated baking stone. Bake for about 25 minutes until golden.
When cooked, the bread will sound hollow when you tap it. Remove from the oven and allow to cool on the baking stone for a few minutes, then transfer to a rack to cool. Repeat with the other ball of dough. If you want to save the second ball of dough to use later, place it in a lightly oiled bowl, cover with a clean cloth and place in the fridge for up to 48 hours. It also freezes well. Thaw before pressing out and baking.
This recipe is from Annabel Langbein Free Range Cook.
So once it had been kneaded, Rob rolled it out very thinly. He made a pesto and smeared that across the pizza (you could use a bought pesto, but we still have basil so are enjoying it while we still can).
He carefully sliced raw potato very thinly and spread them across the pizza, then sprinkled rosemary sprigs on top. He cooked it until the base was golden and crisp (how we like our pizzas).
Next morning he added some currants to the remaining dough and made cute little currant buns which were light on the inside but nice and crispy on the outside.