We had a very quiet hut weekend, just the way we like it. We slept in, walked the dogs around the block, Rob made another 3 vegetable garden beds. I baked some lemon cupcakes to take to my mother's Tupperware party, and got away without having to host a party! We baked Nigella's Schnecken on Sunday for a late brunch. They were seriously sweet, sticky and nutty. Perfect with a cup of tea, but we couldn't eat again until dinner.
Our menu was pretty simple this week a lot of comfort food.
Monday: Chicken and roast vegetable risotto. (Using up the leftovers from the roast chicken dinner the day before)
Tuesday and Wednesday; We had chicken and vegetable soup both nights, (our roast chicken was economical indeed feeding us for 4 dinners and a lunch).
Thursday: Vegetable and chorizo frittata.
Friday: Spaghetti and meatballs (recipe for the meatballs
here
).
Saturday: I'd been out to an afternoon tea, so wasn't very hungry, so we had baked potatoes.
Sunday: Roasted pumpkin and sweet potato soup - a few of my Instagram followers requested the recipe, so scroll down below if you'd like to read it.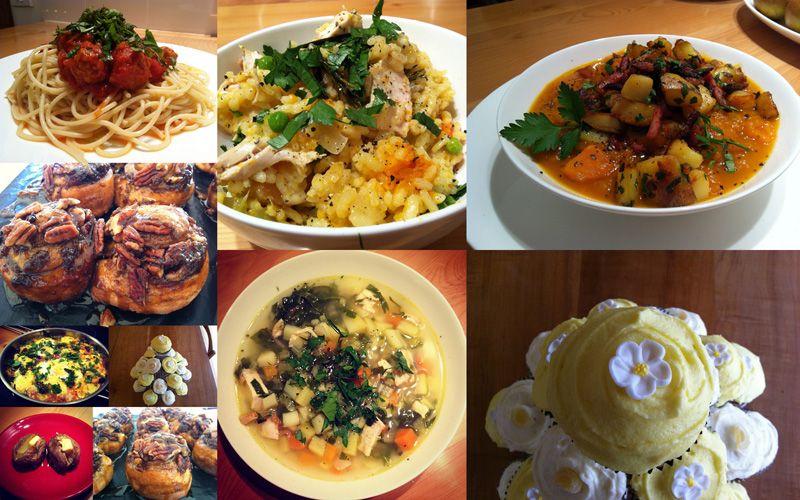 Roasted Pumpkin and Sweet potato soup with potato and speck garnish.
I hesitate to call this a recipe. But it was very tasty. Amounts are approximate and fed just the two of us.
1 sweet potato
1 decent sized wedge of pumpkin
4 potatoes (we used Dutch creams)
Olive oil
1 onion
200g speck (or bacon)
vegetable stock (we cheated and used Marigold Swiss Vegetable bouillon powder and boiling water)
Parsley
Peel and slice the sweet potato and pumpkin into even chunks.
Scrub the potatoes clean. Place the pumpkin and sweet potato on a tray, drizzle with a little oil, place the potatoes on a tray to bake (without oil).
Bake in a 200degC oven until soft.
(We did this the day before, and so popped them in the fridge once they had cooled. But you could just keep going).
Sweat the chopped onion in some more oil in a medium saucepan over a low heat, once softened add the pumpkin and sweet potato, and top up with vegetable stock. Bring to the boil then reduce heat to a simmer for 30 minutes. Taste for seasoning, and adjust if necessary.
Meanwhile heat a little oil in a fry pan and fry the chopped up speck or bacon til cooked and crispy, add the cubed baked potato (with skin on) and fry until nicely browned.
Use a stick blender to blend the soup, ours was still a bit chunky, but if you'd prefer a smooth soup blitz to your heart's desire!
Pour into bowls, top with the potato and speck and some chopped parsley and pepper.
Enjoy.