Well this last week was all about one thing
the
cake. My sister sent me a text a while ago with a photo of a Hoot cake (up until that point I admit I had never heard of Giggle and Hoot). It looked doable. I gave them a few types of cakes to choose from (for inside) and they decided upon a caramel mud cake.
So over the last couple of days the cake took shape, I baked two mud cakes, made some buttercream, Rob sandwiched them and covered them in the white fondant (he's much better at that than me, and believes he has a second career in plastic surgery if he ever desires a career change), then the cake was carefully transported to my sisters. Where, on a very cool and miserable Friday evening, she and I set to work with 2 kilos of coloured fondant and that photo. We're pretty proud of our effort. Although it didn't start promisingly when I was quickly trying to make some royal icing to use in sticking the bits together with. I hit a spatula in the mixing bowl with the electric mixer throwing icing sugar and goopy icing all over me and the bench and the wall. My sister just heard me say "oh no". She had the good grace just to laugh at me, and the damage wasn't too bad. But we moulded and rolled and cut and came up with: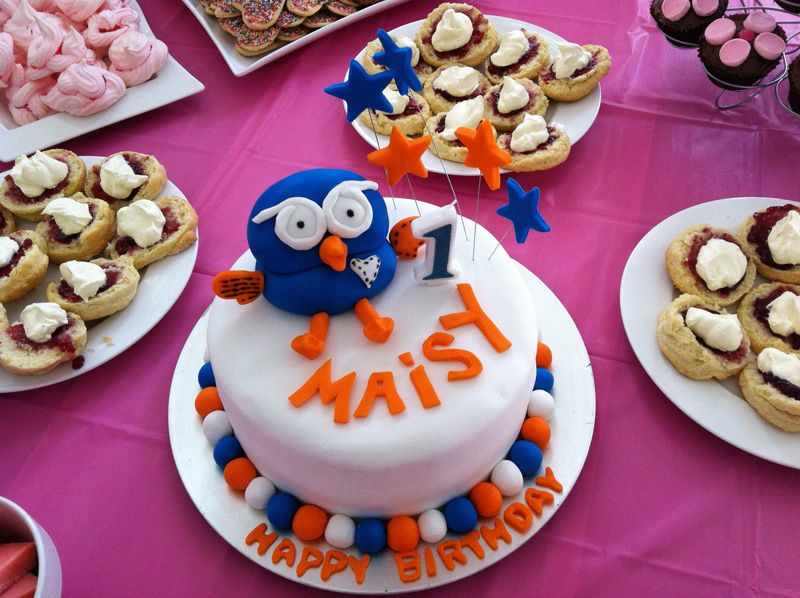 My sister had cooked up a storm, baking cupcakes, jelly cakes, scones, biscuits. meringues, fudge and fairy bread. I offered to make a second cake just in case the 40 guests were still feeling hungry. I quickly made the Annabel Langbein
lemon and coconut cake
on Saturday morning, covered it in cream cheese frosting and added some pink mini bunting. I left the coconut out of the icing this time, as I thought that last time it made it look a bit lumpy.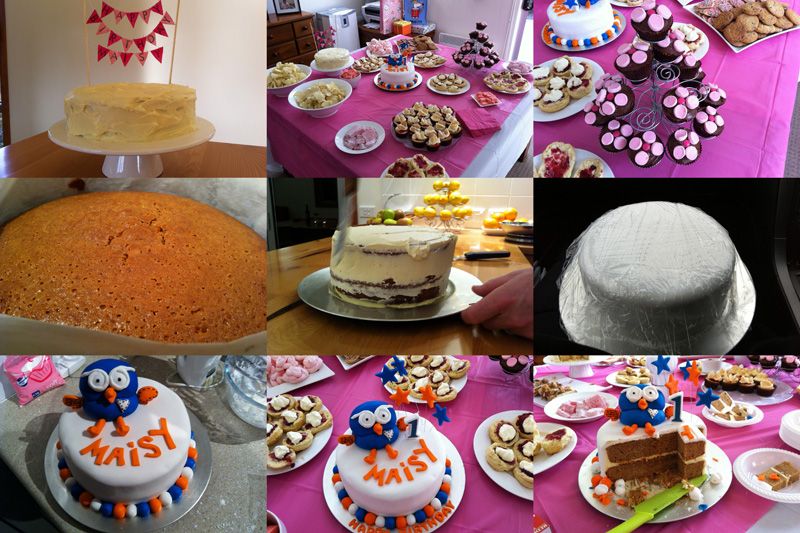 The party was a great success, the birthday girl walking around (yes she can walk), dancing to music, opening lovely gifts and being loved by all her many Aunties, Uncles, grandparents, great grandparents, great aunties and uncles, and friends. I'm not sure what she thought of the Hoot cake, she smiled and looked intently at it, and seemed shocked by us all suddenly bursting into song. But she knows how to clap and clapped along with us.
I got the icing from a new-ish cake decorating shop in South Hobart,
A Tiny Bit Marvellous
. A bit like a lolly shop for cake decorator professionals and wannabes like me!
The rest of the weekend was spent relaxing and doing some
de-beige-ing
.
The menu this week (apart from
the
cake):
Monday: leftover beef and quince tagine with pumpkin and fennel couscous, and a fennel and orange salad.
Tuesday: a fish-less paella, with roasted red peppers and olives.
Wednesday: a spinach and pine nut omelette.
Thursday: Tomato pasta sauce, with red peppers, olives and fetta.
Friday: THAT cheese (1792, a washed rind matured on a piece of Huon pine board).
Saturday: Beef, mushroom and red wine pie.
Sunday: Beer braised ham hocks, with fennel, apples and cabbage.
What's been on the menu and your place?