The menu was for warming comfort food this week, with grey skies and plenty of rain, we get home in the dark and need something to warm ourselves up. Autumn is slipping into winter. For some reason, this year I don't mind as much as normal. Although I do mind the mouse that has set up home in our heat pump!
Monday: we ate left over French onion soup (which was so rich for such a small serve), potato gratin with a salad.
Tuesday: we had a late lunch, so all I could contemplate was a rocket salad with pear, walnuts and shaved parmesan.
Wednesday: Pasta puttanesca.
Thursday: we stopped at my parents place for dinner. Mum made us her Italian beef with potatoes, and a delicious lemon cream dessert (I ate it too quickly to take a photo).
Friday: Baked potatoes topped with cheese and bacon.
Saturday: Beef curry with rice and papadams. The sauce was thick with spices, lentils, onions, garlic and chickpeas.
Sunday: Shepherds pie.
Baking wise, Rob made some rye baguettes and I made a cherry, almond and coconut slice from the Primrose Bakery cookbook. The slice hasn't lasted long, the container is nearly empty!
What have you been cooking recently?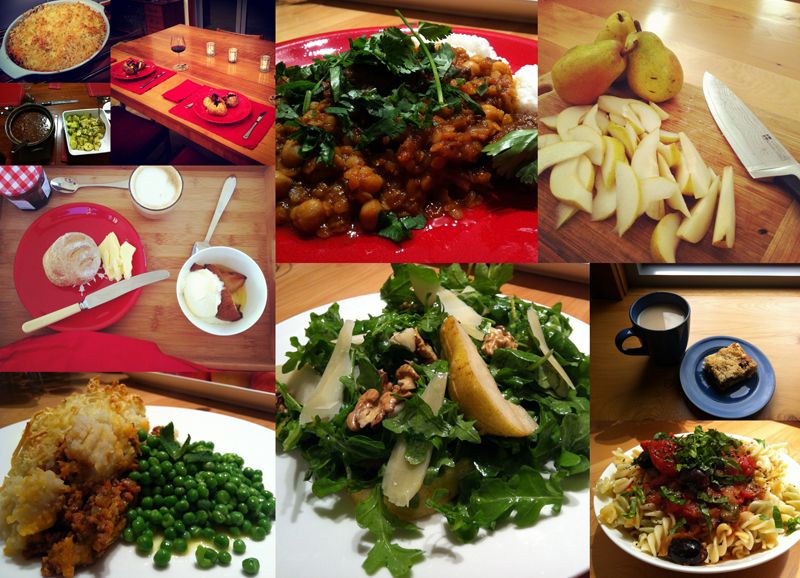 We spent a happy afternoon on Saturday planting out my spring bulbs, carefully lining the paths with the tulips, and the ranunculus and anemones are spread randomly around the triangular beds. Now I just have to wait to see them pop up.
Yesterday after cleaning the hut, we realised that we were free to do anything, as the garden didn't need any further attention. It was an unusual feeling. We decided to go find some plants for Rob's botany practical, he wanted something new. So we grabbed the dogs and headed south. We didn't go far. stopping at Trial Bay. The dogs were super keen, after being cooped up all week because of the weather. Once off their leads they ran around on the rocky beach, sniffing seaweed, and cheekily looking over their shoulder to see if we approved as they waded into the water. I made a pathetic attempt at only letting them go in up to their legs, but as you can see that didn't work.
Rob walked at the back, taking photos of the plants, while I went ahead, determined to get to a jetty that I could see at the point. The rocks were beautiful colours, one even a bright aqua colour. Others were covered in bright yellow and orange lichen. I got to the jetty with two dogs hot on my heels, it was a bit rickety, but I encouraged them to walk along it, so I could take some photos. Those brave dogs, they ran up and down the jetty and looked back to where Rob was wandering along.
Once he got there I think they both wanted to show off a bit, Nigella spied a submerged branch and she swam out to get it, Claudia (who isn't as keen on swimming) even followed her out there. The water was so clear (and must have been freezing) but Nigella loved swimming around us out on the jetty even swimming under it. From our highpoint on the jetty, we were able to see her cute legs purposefully swimming under the surface. Nigella has hip dysplasia, so can't actually run very well anymore, but you could tell she was so happy to be swimming so freely in the water.
We could see a misty grey cloud coming so high tailed it back to the car. But it was a lovely way to spend the afternoon.
Photo collage from my iPhone. Some tweaked in Instagram.
These last three taken by Rob with the real camera.