Now we don't have the luxury of taking photos of our dinner anymore, so I'm afraid my Monday Menu posts have faded away. We count ourselves lucky if we get a moment to eat our dinner at a slower pace before having to clean up one of the girls sitting next to us in their high chairs.
But the other day when the girls finally went to sleep I had a moment to start cooking something for dinner (it was just going to be scrambled eggs) and I quickly grabbed the Blue Ducks cookbook off the shelf.
An Instagram friend Charlotte a publicist at Pan MacMillan has sent us a few generous boxes of books. Cooking, gardening and children's books for the girls. I haven't had the time to cook many things but I have poured over the pages, tucking away recipes to try.
The baked eggs are really a breakfast dish, but I love eggs at any time of day. We had some free-range eggs from a friend so I was set.
So easy, quickly fry a chopped onion and some garlic cloves in a pan. Add 250g of sliced chorizo sausage (I used a can of
Manolete
chorizo which locals can pick up at
Bottega Rotolo
), and fry until the onion is translucent. Then add a sliced red capsicum (I had some pre-roasted in a jar), a sliced chilli (I omitted this!), a 400g can of well rinsed and drained cannellini beans, a 400g can of diced tomatoes (or whole baby romas like me), a tablespoon of paprika, stir and simmer for 10 minutes. The mixture should be thick but still saucy, season and add a handful of chopped flat-leaf parsley. At this stage I paused to wait until dinner, but you can press on if you are hungry.
Preheat the oven to 200 deg C. Our fry pan is oven proof, so I just cracked 8 eggs in dents I made amongst the tomato/bean mix. Alternatively you could spoon the mix into the middle of individual terracotta bowls and crack an egg either side of the beans.
Place the eggs in the oven and bake for 6-8 minutes, depending on how well cooked you like your eggs (we like them runny). I served it with Pigeonwhole sourdough, and we all enjoyed it immensely.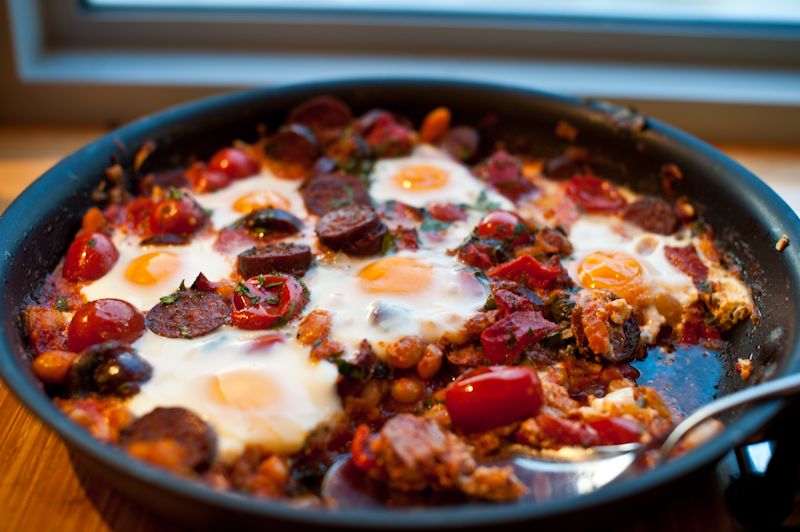 I even got a moment to bake on the weekend, quickly making a Lumberjack cake. I used the Woman's Weekly
recipe
, but made it in a 20cm square tin and doubled the topping mix.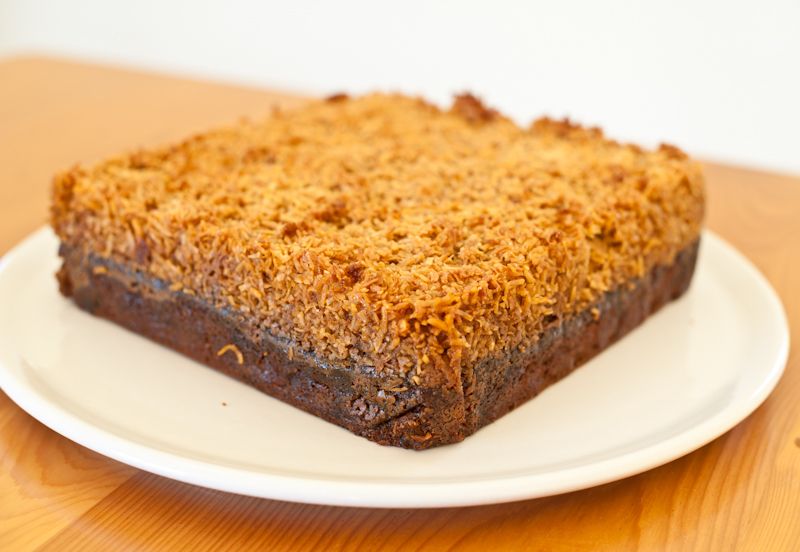 What's been on the menu at your place recently?