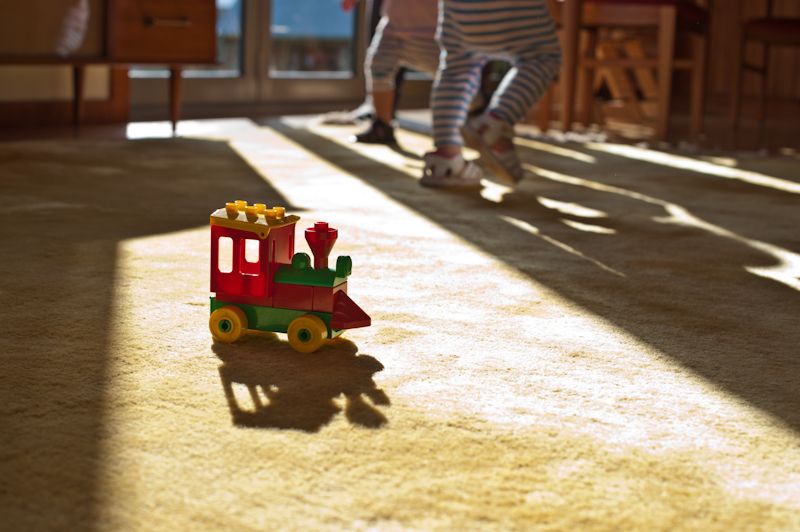 Alarm.
Grab phone before it wakes the others.
Ease out of the firm grip of Maggie.
Shower.
Let dogs out.
Espresso machine on.
Heat pump up.
Unpack dishwasher.
Wash bottles.
Pack lunch and snacks for girls and Rob.
Lay out breakfast.
Pack bags.
Let dogs back in out of the rain.
Go back and encourage the others to wake up.
Wrangle girls into high chairs.
Look away for a moment and find they are painting with their yoghurt.
Clean up.
Offer them bananas.
Pick them off the floor.
Get them back out of the chairs.
Pay bills online.
Thankfully sip the coffee my dear husband makes me everyday.
Herd girls into bedroom and change nappies and dress them with Rob.
Brush my teeth, encourage them to do theirs while Rob showers.
Watch them play hide and seek in our wardrobe.
Dress in work clothes.
Cajole girls towards the car dragging bags and baskets.
Say bye to dogs and lock them up.
Drive to family day care.
Drop girls in, laugh as they greet their baby friend and wave us happily goodbye.
Spend 20 minutes alone with my husband as we drive to work.
He drops me in Battery Point then heads to uni to give a 9am lecture.
I visit the post office and buy 1kg of coffee beans.
Walk down the road to work.
Computer on.
Email open.
Greet open plan cubicle mates.
Catch up on a week's emails.
Walk across the road for a coffee.
Wish I'd walked a bit further for a better one.
Wrestle with our website content management system.
Walk across to Salamanca to buy veggies and bread for dinner, and soup for lunch.
Catch up with friends as I eat.
Start planning my timetable for the rest of the work year.
Realise that it is only 24 work days.
Feel tired thanks to the change to daylight savings.
Check and see a Facebook update from their carer.
Laugh as I see Maggie covered in paint.
Melt as I see Elisabeth's sweet smile.
Count the minutes down until home time.
Head out the front and wait in a cool spring breeze for Rob.
Head to care.
Rush in to see them.
Hear about their great day.
Cuddle them as we head to the car.
Drive home.
Unpack car.
Let out joyous dogs.
Rush girls in through the rain.
Unpack.
Amuse girls with Shaun the sheep on my phone while Rob cooks stir fry noodles.
Eat.
Drink wine.
Clean up girls.
Remove their dinner covered trousers.
Police the trike riding.
Practise their yoga moves.
Run their bath.
Wash the girls.
Dry shivering girls as they stayed in their bath too long.
Convince them to put a nappy back on.
Teeth brushing.
Sleeping bags on.
Bottles.
Sleep.
Move them into their cots.
Smile as I watch them sleep.
Blog.
Chocolate.
Whisper goodnight to dear husband.
Sleep.
Well for 3-4 hours at least.